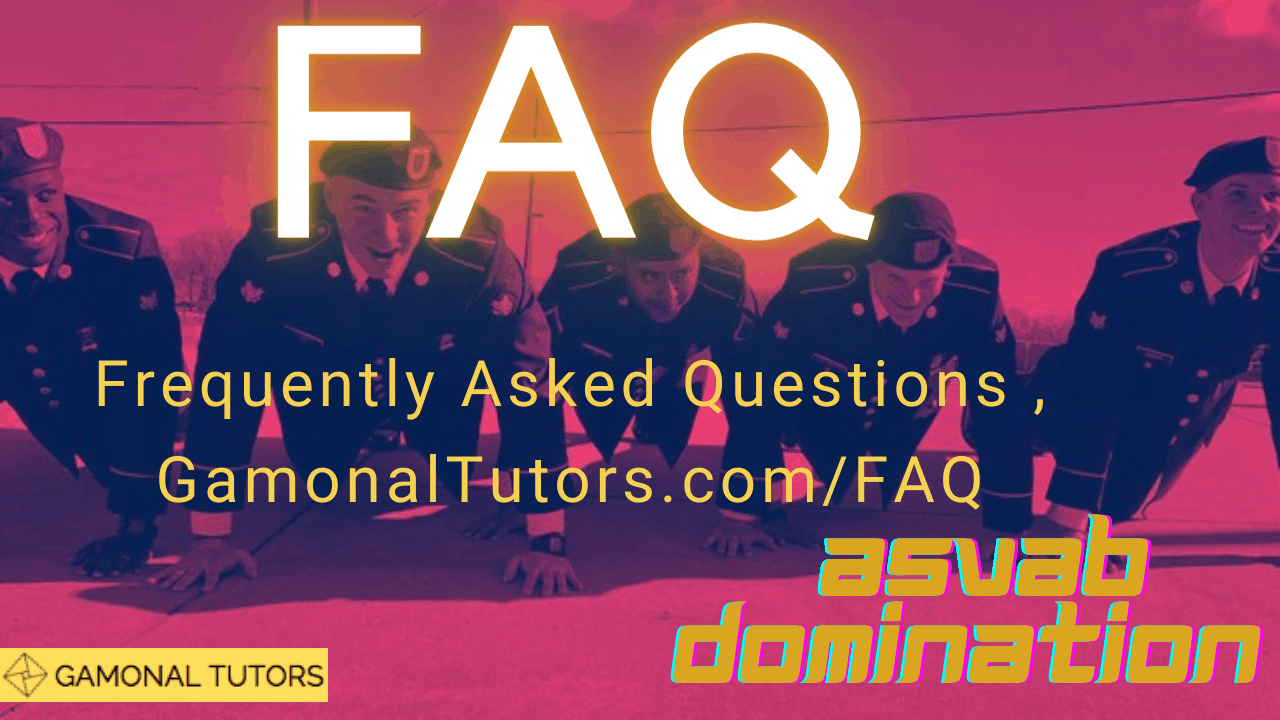 Q: What comes with the $300 per month PROgram?
With the $300 you get a tutor who is in your corner. It comes with online zoom classes 3 times per week (sometimes with weekend classes). You can ask questions during these zoom sessions designed specifically to help you pass the ASVAB at the highest possible level. It also comes with the welcome package ($100 purchase on it's own). All past recorded lessons are available for that month (and previous months).
Most importantly your score will rise and you'll get better at Math and English.
Q: What comes with the $100 booklet?
The booklet comes with a notebook, flashcards, post-its, pencils,  a bookmark, and a sharpener. It has everything you need to succeed on the ASVAB, but you'll have to hold yourself accountable to read it/use the resources. The full PROgram works best for most students, but if you can hold yourself accountable the booklet will work great.
Q: Does your program really work?
It's worked for many, and I'm hoping to help many more. I do my best to increase your score, the real question you can ask is do you believe in yourself. To see how it worked for other people check out my testimonials.
Q: Do you work with special needs?
Of course! I've been teaching a long time, I'm of the opinion that people with special needs tend to be better students than those without. They are humble enough to learn. Bruce Lee said it best, "the usefulness of a cup is when it's empty." If you think you already know everything it's much tougher to teach you, you'll want to be teachable, in order to learn.
Q: Do I need a laptop?
You don't need a laptop to attend class, It's helpful, but not mandatory. I've taught students through the Zoom App on their cellphones and tablets.
Q: Do I need to buy your booklet if I've registered for your course?
The booklet comes free with my class. I'm in your corner, if you pay for the monthly program no further purchase is necessary. The only thing that costs after you've paid is all the time you choose to invest into your future.
Q: Are all of your classes recorded or Live?
All regular and bonus classes are both live, and recorded. I'll make sure you can ask questions, and I record it so that you can look back at any lessons you miss. Or even ones that you attended but still would like to review.
Q: What types of students do you work with?
I'll work with any student who is willing to learn.
But…
… My favorite students are those that are already in the military for three reasons:
Being in the military gets respect for my earned rank (2LT), as well as my teaching/leading ability.
They recognize the gravity of the test, they'll put in the study time and effort because they see the difference between the military members doing what they want and those doing what they're told.
Military folks aren't shooting for the minimum. They will put in the work to get the MAXIMUM SCORE POSSIBLE.
Q: What's the bottom line?
The truth is, you'll get out of this program what you put into it. If you put in just enough effort to barely pass you may or may not pass. But if you're serious about changing your life, you'll have a support network to help you get after it in my class. I'll believe you can progress through these subjects for as long as you believe in yourself (and sometimes, a little longer).
Q: How do I get started?
Fill out your PayPal info here:  Gamonaltutors.com/join-the-pro